For more information on using a Buyer's Broker in NYC or any Real Estate Inquiries, Contact me via email or via phone.
If you are buying a home in NYC, should you hire an agent or broker to represent you? The quick answer is yes. While you may not have had a great experience with rental agents, buyer's brokers are not the same as rental agents. So, if it is tempting to go it alone, here are a few reasons not to.
Benefits of a Buyer's Agent:
Given the high-stakes nature of buying NYC real estate, anything a buyer can do to maintain the highest level of trust in the process will help tamp down the anxiety inherent in the buying process. The benefits to having a buyer's agent work for you:
Unbiased representation.
Negotiation expertise tailored to buyers' needs.
Neighborhood or building experience with knowledge of comps, availability, neighborhood data, market values.
Time-saving aspect, since an exclusive buyer's agent has a vested interest in moving mortgage, insurance and inspection paperwork along.
"An exclusive buyer's agent does not have a vested interest in any one particular property and therefore provides unbiased advice to a buyer. That includes bringing meaning to the numbers and informing buyers whether a property is fairly, under or overpriced. I think of the buyers' agent as the soldier who is on the front line for the buyer, who is the general. Would you use the same attorney as your spouse in a divorce and pay for it? It is important to have a dedicated knowledgeable and experienced buyer's agent by your side to decipher the information and protect and act on your behalf to achieve the best result possible.'' Said Elika, who is also the current director of the National Association of Exclusive Buyers Agents.
Interview several agents; check their references; call the state agency that regulates the real estate industry to make sure no pattern of fraud or complaints have been filed. Once you have landed on one you like this is what the process typically looks like: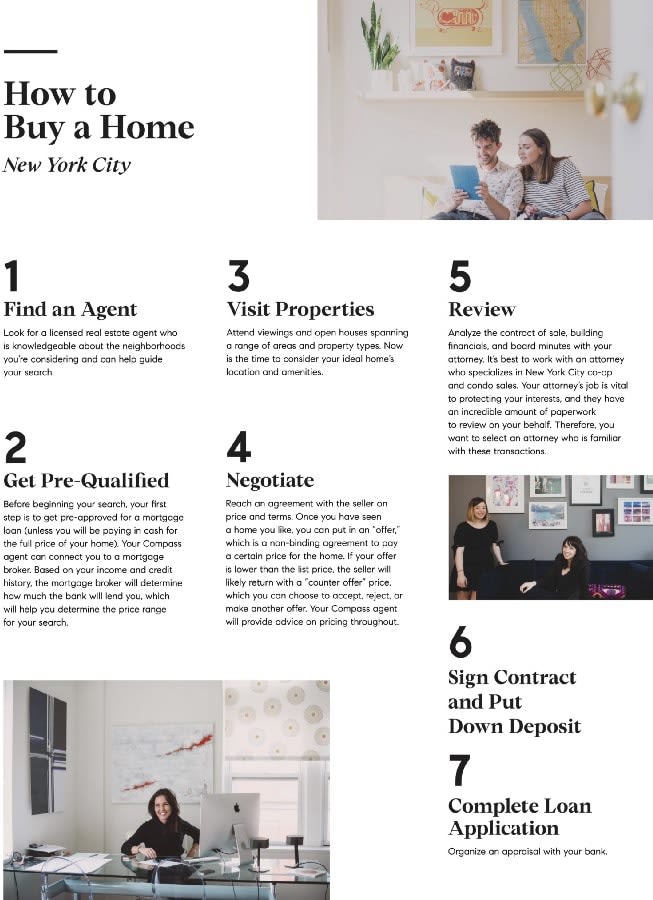 Source: Compass.com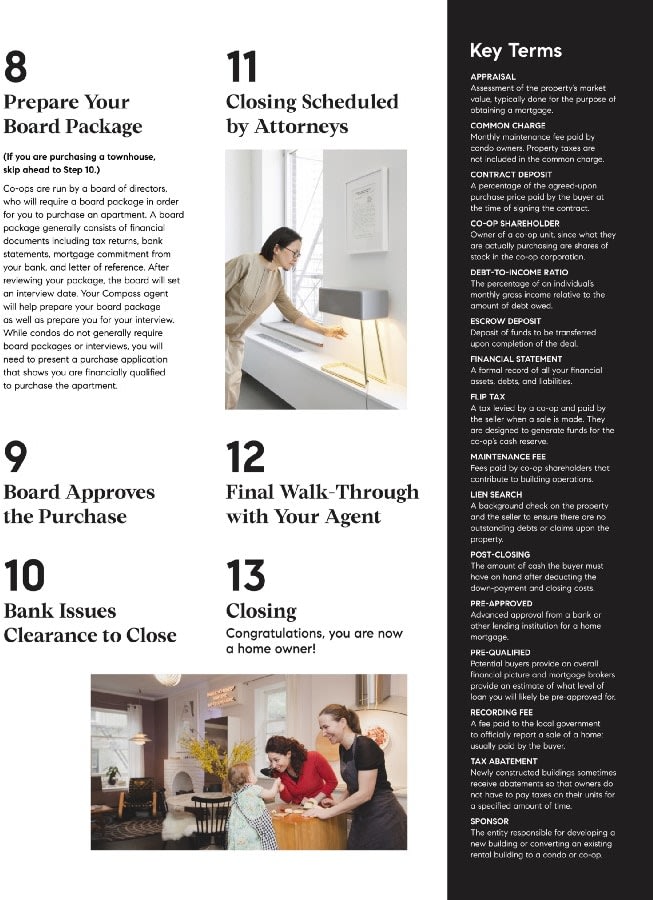 Source: Compass.com
But, buyer beware: When the same agent represents both you and the seller, this is called dual agency, and does not guarantee that the listing agent will equally represent the buyer's best interests. Dual agency is such a slippery slope, in fact, that New York state law requires that the seller's agent reveal this to both the seller and the buyer and each party must sign a disclosure agreement, which formalizes that each party understands the consequences of the agreement. This disclosure agreement is required despite New York state requiring attorney representation for both the buyer and seller in order to close a real estate transaction. But, this model presents buyers with an issue. Without an agent whose only role is to represent the buyer in the home-buying process, there's very little way to eliminate what can be the inevitable doubt that your interests are the first and foremost consideration.